Katherine Grainger MBE has been presented with the University of Glasgow's prestigious Young Alumnus of the Year Award 2012.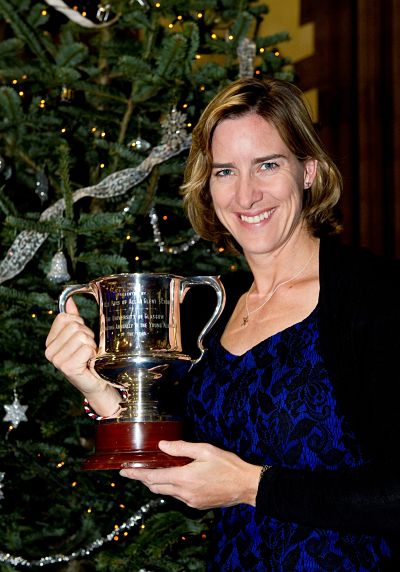 Katherine Grainger accepts her Young Alumnus of the Year trophy
The Olympic gold medallist was in attendance at Glasgow's alumni Christmas dinner in the University's Bute Hall on Saturday 15 December to receive the reward in recognition of her achievements as Britain's most successful female rower.
In August, she thrilled a vocal home crowd at Eton Dorney, pairing with Anna Watkins to win the women's Olympic double sculls and gaining Britain's sixth gold medal of the Games.
Learning of the University's decision to present her with the award, Katherine said:  "It's incredible. I felt the big focus for me this year would be the Olympics, and winning it was everything I wanted it to be. I kind of thought I'd won everything I could win, so to be awarded this on top makes the year even more special."
Katherine was born in Glasgow in 1975. After completing her undergraduate law degree in Edinburgh, she returned to her home city to study for a Masters in Medical Law and Medical Ethics, which she received in 2001. She is currently close to completing a PhD at King's College London.
She added: "I wouldn't have done a PhD if it hadn't been for the Masters at Glasgow. I used to really look forward to seeing the people in my class who I absolutely loved to work with. I remember them all being hugely supportive. Time management is very challenging, but I've always found that I can do both rowing and studying. When I can get outside it gets me awake and alert and then ready to go and do some thinking. So actually I do find that they're a good balance for each other."
Despite winning six World Championship titles and silver medals at three successive Olympic Games, the prize of an Olympic gold had proved elusive for 36-year-old Scot before London 2012. Katherine had to pick herself up for another four years of training following the disappointment of losing narrowly to the Chinese team in Beijing 2008.
Professor Anton Muscatelli, Principal & Vice Chancellor of the University, said: "I'm delighted Katherine has been chosen as our Young Alumnus of the year. I am constantly impressed by the achievements of Glasgow's alumni.
"Previous recipients of this Award include world-record-breaking sporting stars Mark Beaumont and Emma Richards, acclaimed theatre director John Tiffany, and MOBO-award-winning artist Emeli Sandé. Katherine Grainger joins this special group as yet another inspirational winner.
"The University community was delighted to see her hard work being rewarded this year, with the achievement of her long-held dream of Olympic gold and we are proud to count her among our alumni."