After a two-year break the four-times Olympic medallist has set her sights on a fifth in Rio and she is relishing the opportunity, despite being 'far from the finished product.
Photograph: Sarah Lee for the Guardian
"You come back and you begin to understand that it's quite a surreal way of living," Katherine Grainger says on a quiet morning in Berkshire as, alongside a sun-dappled Caversham Lake, she considers her return to the searing focus of training and racing as an elite athlete. Since winning Olympic gold as a rower at London 2012, Grainger has been fulfilled off the water. She has already told me stories as amusing as they are illuminating about her subsequent life – from the deadline-devouring madness of completing her PhD in criminal law, with homicide at its heart, to writing a book, to succeeding Shami Chakrabarti as chancellor of Oxford Brookes University to, exhilaratingly for her, meeting Sofie Grabol who played Sarah Lund in The Killing.
Yet even an encounter with the compelling lead character in Grainger's favourite television series lacks the intensity of her rowing comeback after a two-year break. Her ambition to compete in a fifth straight Olympics next year, having won medals at each of the last four Games, has offered Grainger renewed insight into the brutal simplicity of sport.
"Real life can be complicated and chaotically busy," she says with the smile of a woman who not only survived but enjoyed the whirl of engagements that followed London 2012. "This is beautifully simple," Grainger says, gesturing to the water and the boats around her. "Having had time out it's interesting because you do get a different perspective. As athletes we have just the sole aim. We only worry about our one overriding goal. There is a real purpose to what we do. I definitely missed that intensity when I was away."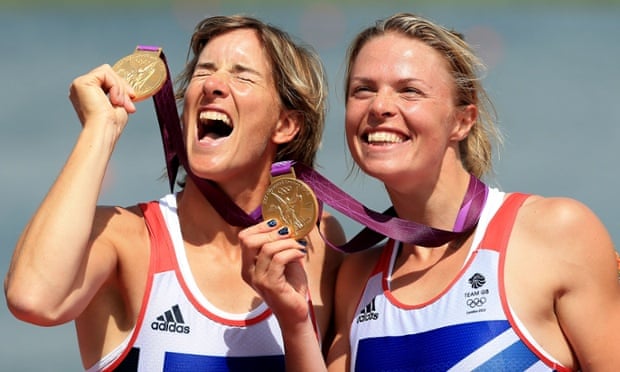 Grainger pauses, in a rare break because she is such an enthusiastic and vivid speaker, and looks across the lake where she suffers and demands so much of herself in a concerted attempt to force her way back, aged 39, into one of the GB boats for the Rio Olympics. "When I started training again [last September] I did think: 'I like this.' I really like the fact that for a limited period of time you have this unbelievable drive aiming at one ambition. It's very pure. I like having other things in my life to balance it but there are periods when only this matters. Not many people get to push everything else to one side and say this is my only priority right now."
Such extreme concentration requires sacrifice while, eventually, offering an almost exquisite intensity of experience. Grainger recalls the moment when, just before she and Anna Watkins began the final of the double sculls at the London Olympics, she looked into her team-mate's face and thought: "I'd rather die than let you down."
She laughs at herself away from the gladiatorial arena of Olympic competition. "It sounds melodramatic but there was such tension. You could feel it. You could sense the crowd and there was this thought: 'We have this one chance.' It was in our hands to win or lose it. At that point I thought: 'I cannot, I will not, let Anna down. We've given everything to this for the last three years and this is it, this is the one moment that matters.'
"It was wonderful. It's quite a privilege to be in that moment. We were absolutely so in tune with what we needed to do. One of the loveliest things about our sport is that it is team-based. If one of you is not right, there is no way you can make the boat work. You both have to be totally ready and I love that. I love racing. I'm lucky that way."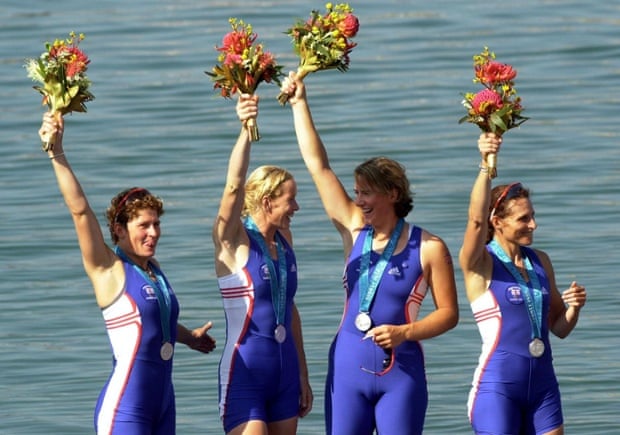 Grainger's ferocious competitiveness is matched by an expansive intelligence and easy-going charm outside the boat. She could have become a leading criminal barrister, which was her ambition before she started winning world titles and Olympic medals, or just spun out her post-2012 flush of acclaim into a different career. So Grainger needed time to decide whether she really wanted to lose herself utterly in rowing again.
"I never retired," she says. "For two years I was asked most days – by taxi drivers, members of my family and people in the street – if I was retiring. I honestly didn't know. I thought: 'God, I could have a really exciting life in other areas, so if I still chose rowing it would be a really positive decision.' Eventually, for my own sanity, I needed to make a decision. It was agony in a way, those two years of not knowing, but when I finally made my mind up it felt definitely right. This is another amazing opportunity for me."
Real life, in the form of Watkins giving birth twice over the past 19 months, has changed everything. Grainger has returned to Olympic preparations without her gold medal-winning team-mate and with uncertainty surrounding the boat that might suit her and the GB squad best in 2016. "Anna's been busy," Grainger smiles. "She was married while we were rowing and I knew there was going to be a family. When she told me she was expecting her first baby it was incredibly emotional. It's the happiest day of her life, and I shared her joy, but at the same time it was the end of something we were both so proud of. It felt so easy – how good we were, so we knew the scale of finishing. She is a fantastic mother and is incredibly happy but it was a big deal for her and me when she ended her career. We both had our moments."
Is Grainger now able to regard rowing without Watkins as a fresh start in a new boat? "I have ups and downs. If it had to end, what a way to end with Anna in London. We trained and raced and shared rooms for three years, so you learn so much about each other. That trust and communication was there from the start and it just built and built. Eventually you will do anything for that person. We were also at the peak of our careers, so it was pretty magical."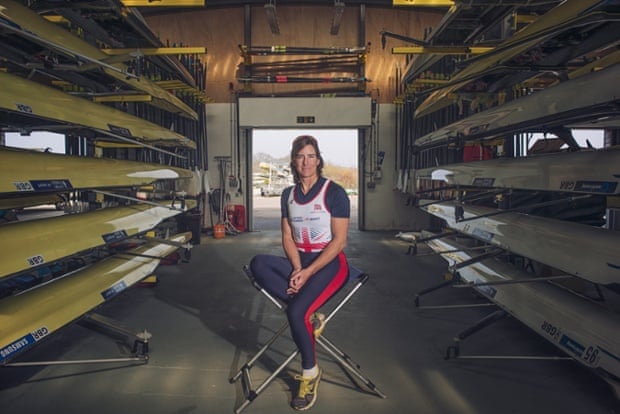 It was also a highly educated crew. While Grainger was completing her doctorate, Watkins was working on her PhD in mathematics. "We're educated in very different areas," Grainger says. "She's maths and science and so she's very good at understanding data and explaining graphs – which is not my thing! I like words and I rely on instinct. I could feel when the boat was right and then Anna could explain why I felt that way. She would say: 'Look at the data … ' But Anna also liked hearing the emotional stuff from me that we were in a really good place. We used each other's strengths."
The next few weeks will decide much amid a searching series of trials for the GB squad. "It's hard because there's such fierce internal competition," Grainger admits. "When you take on the rest of the world as crew-mates that's really exciting but there's a different edge when you have to compete against each other. It's tough because we're a very close group and suddenly we're racing each other for seats in different boats. It's hard to push your friendship aside."
The decision on Grainger's place in the Olympic squad will be decided by Paul Thompson, the impressive Australian who has coached her throughout her long Olympic career. Talking to Thompson before meeting Grainger gives a real sense of her enduring qualities, while also reiterating that her inclusion will be based purely on merit, without any sentiment.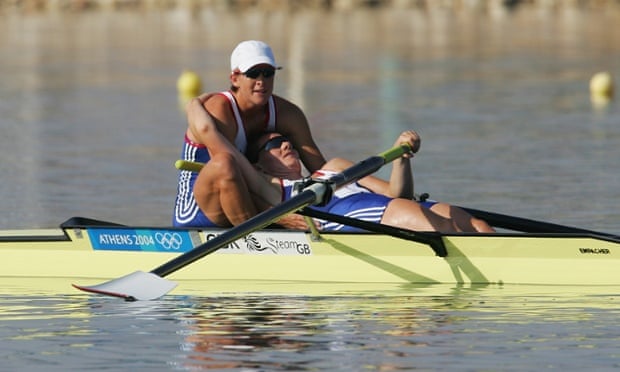 Grainger shakes her head in comic bewilderment when asked how Thompson pieces together the complicated jigsaw of his Olympic squad. "It's the dark arts. We've got trials in doubles and quads and in April there will be trials in singles. Paul will have results for all of us in singles, doubles and quads. In the past Anna and I always finished first and second in the trials – and the easiest thing then is to say: 'OK, the top two are in a double.' But the dark arts come into play. Sometimes the top two don't make the fastest double or the top four don't make the fastest quad, so it's at the discretion of the coach. There is room for flexibility."
As a winner of two Olympic silvers in the quads and silver and gold in pairs, Grainger has expertise in different boats. "I've got a soft spot for smaller boats," she says, "but the partnership is crucial. You don't need to get on that well but it really helps because of all the time you spend together. Training is quite stressful and so you want to relax and not be on edge."
Does she have a gut-feel as to how Thompson might lean in his decision-making? "I don't but this year is really important because it's Olympic qualifiers. You can still qualify next year but most boats do a year in advance. Paul wants the boats with the best chance of qualification going to the world championships [in August]. He's obviously got the [coxless] pair that will be leading the charge in their event and that's sewn up with Heather Stanning and Helen Glover. They won the Olympics. They won the worlds, so [Grainger laughs] they're going pretty well. On the sculling side we've got a single, a double and a quad option. Singles is unlikely to be a priority but I've raced both of the others. Since I've come back none of the boats I've been in are the finished product – mainly because I'm far from the finished product – but they all have potential."
Grainger and Thompson stress that she is not quite at the level she reached in 2012, which is unsurprising after two years away, but she is catching up fast. The old drive is palpable and it would be a surprise if Grainger was not back in one of the Olympic boats in Rio.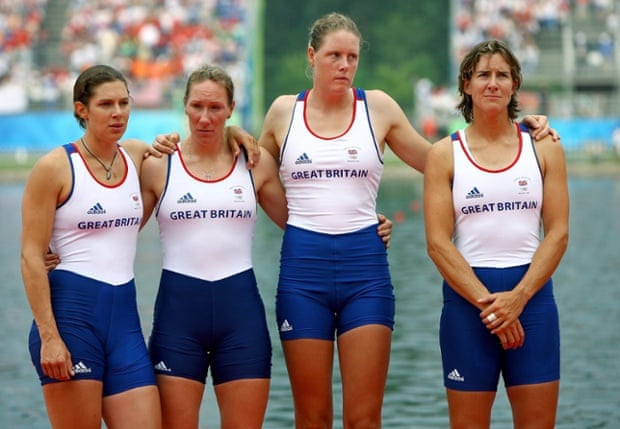 She is the most decorated British female Olympian alongside Rebecca Adlington, the retired swimmer who has also won four medals – but no other GB woman comes close to Grainger's record of winning medals at four successive Games. "It's very nice but none of us do this to get records. When we won that silver in Sydney [in 2000] it was the first for British women's rowing and we were ecstatic. I could not have been happier if you had given me gold. I was at my maximum capacity of joy. Then, just eight years later in Beijing, silver was an absolute disaster. I might as well have come last. You lose perspective because you have been obsessed and so it took a long time to be OK about it. I wouldn't wish Beijing on anyone but everything is an experience that can be used."
Grainger turns 40 in November but her intense sporting story is not over. A fifth Olympics loom large, with the prospect of another medal in a new boat, and Grainger smiles at her regained focus. "I felt very nervous on my first day back, like I was the new girl again. Then I went out for a paddle and I thought: 'Yes, I'm back and I feel good about it. Why wouldn't I want to do this? It's amazing.'"
Article written by Donald McRae for the Guardian